SEAT OF MANIZALES BULLS
The year of 1897 passed when Manizales as soon as yes it arrived at the 50 years of his foundation, time at which a small circus for first festejo was inaugurated bullfighting made in the city; of until 1951 13 circuses were constructed there and the Seat denominates gives the Soldier located in estates of the Ayacucho Battalion.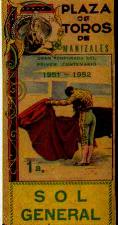 The 27 of romantic September of 1945 a group of bullfighting conformed the society SEAT OF MANIZALES BULLS, by means of public writing number 1234 integrated by distinguished horsemen, like José Restrepo Restrepo, Pedro Jaramillo, Vicente Gutierrez, Jesús María Bermudez, Antonio Pinzón, Benjamin Patiño Callejas, Laserna Hoyos Ltda., Alberto Gómez U, Rafael Villegas, Luis Carlos Valencia, Oscar Hoyos Botero, Ignacio González, Gustavo Velez Arango, Pantaleon Gonzalez, Roberto Cardona Arias and Don Antonio Cuartas, who with the course of the years transferred their actions to the Red Cross Seccional Caldas, its present proprietor.
The construction company Robledo and Borrero made delivery of this work the 23 of December of 1951 date in which the first in excess one of bulls in the present seat was made, being mayor of the city the Dr. Fernando Londoño Londoño. The inauguration bullfight was advised by Mr. Octavio Gutiérrez A.
In the included/understood lapse 1951-l955 some bullfights and festejos were made including the presentation of the Mexican comedian Mario Moreno - Cantinflas-, Rubén Escobar - Escobarito-, Felix Rodriguez Antón, Jose Eslava, Julian and Isidro Marin, Jose Maria Martorel, Antonio Ordoñez, Pedro Martinez - Pedres- and Joselillo of Colombia.
The 14 of July of 1954 the mayor Mario Vélez Escobar instituted the Fair of Manizales, with decree number 311. He is to stand out who was the great impeller of the Fair of Manizales: Doctor Oscar Hoyos Botero, in company of Roberto Cardona Arias and Jose Manuel Hoyos Arango among others.
The First Fair
By the mandate of the authorities that in opportunity arranged to celebrate it:

By will of the organizers whom it has loved it has this the greater esplendor and the most unusual brightness:

For complacency of the town that during a year has waited for with anxiety the arrival of this adventurous date:

In homage to whatever of it was have arrived at the city with desire to live in her one week on unalterable relaxation, in a joyful atmosphere of celebration, to the impulse of his spirit.

Declaration opened from this moment... the Annual Fair.

Manizales under protection of vibrates and sings... your proven hidalguía, under the transparency opened of his sky on the green plinth of it ignites the fire again of see and throws to again fly in the wind the bells of your joy and your laughter.
---